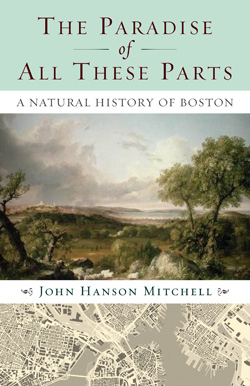 Buy
"A wonderful piece of work: lively, thought-provoking and totally absorbing. The city of Boston has been chopped to pieces, riddled with tunnels, and surrounded by fill, but as Mitchell reveals in The Paradise of All These Parts, it is still a place of wonder."
-Nathaniel Philbrick, author of Mayflower: A Story of Courage, Community, and War
"There is plenty of history, natural and otherwise, in The Paradise of All These Parts, but there is also wit, narrative, and vision. Like Thoreau, Mitchell has a genius for sauntering, and I can't imagine a better rambling companion. John Hanson Mitchell proves once again that he is one of our very finest writers about place."
-David Gessner, author of Soaring with Fidel: An Osprey Odyssey from Cape Cod to Cuba and Beyond
"Hands-on and eloquent - a lover's rhapsody."
-Edward Hoagland
The Paradise of All These Parts
A Natural History of Boston
In 1614, the explorer John Smith sailed into what was to become Boston Harbor and referred to the wild lands and waters around him as "the Paradise of all these parts." Fifteen years later a company of Puritans arrived and settled on the tadpole-shaped Shawmut Peninsula at the western end of the harbor and began to remake the topography. Within a few decades, a new city, known as Boston, was rising among the erstwhile hills of the peninsula.
Now, almost four hundred years later, one might wonder what remains of John Smith's "Paradise".
Mitchell's newest work, The Paradise of all these Parts: A Natural History of Boston answers this question. In a series of looping walks around what is left of the old Shawmut Peninsula, Mitchell offers a surprising view of what could have been a very sad story. Twice in its four hundred year history the nature of the place was all but obliterated. But, remarkably, twice, it rose again and restored a semblance of the original nature, a process that is still going on in our time with the creation of new parks, gardens and wild corridors.