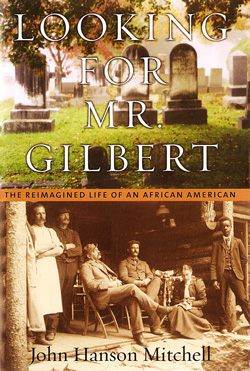 Buy
"Mitchell tells a remarkable story of the discovery and authentication of a hitherto invisible African American life…. Mitchell does so with warmth and wit, and he opens our eyes to an important figure in American photography."
—Henry Louis Gates Jr.
Looking for Mr. Gilbert:
The Reimagined Life of an African-American
Shoemaker & Hoard, 2005
In the mid 1970s, Mitchell discovered over two thousand antique glass plate negatives in the attic of an old estate in Massachusetts. At the time, he believed the photographs to be the work of William Brewster, the nineteenth-century ornithologist and conservationist. But as a result of a tip from a Harvard research assistant, Mitchell came to believe that the plates were not the work of Brewster, but of his assistant, a little-known African American named Robert Alexander Gilbert.
In his quest to uncover the story of Mr. Gilbert, Mitchell's trail leads from the labyrinthine archives of the Museum of Comparative Zoology at Harvard, to the countryside of Virginia; from the haunts of American expatriates in Paris, to the culturally rich world of African Americans in Boston at the turn of the last century.
With careful deconstruction of the photographic images, Mitchell makes visible this invisible man. From the investigation of the haunting photographs of landscapes and people, Robert Gilbert slowly comes into focus as a quiet, unassuming Renaissance man, a polymath who forged on in the face of social pressures and the iron ceiling of American racism.